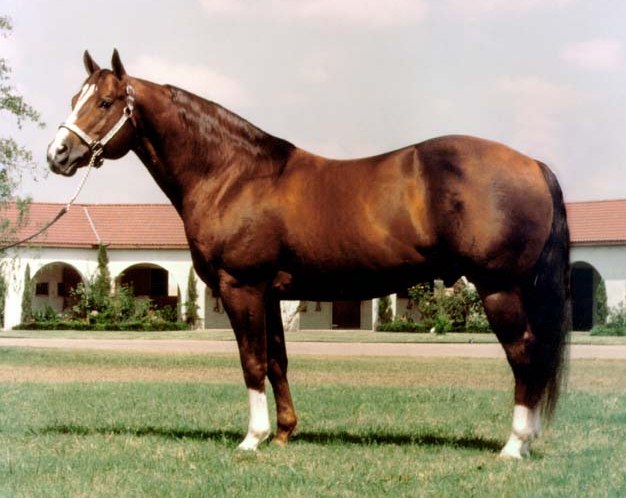 Colonel Freckles, was a cutting horse who earned $46,305.00 in National Cutting Horse Association (NCHA) contests before retiring to a career at stud. He died in October 1986 at the age of 13 from complications of eating blister beetles. Among his offspring are Nu Cash, Doc Jewel Bar, Reveille Bar, Just Plain Colonel, Master Jay, Colonel Hotrodder, Colonel Flip, and Colonel Barrachone. Colonel Freckles was inducted into the AQHA Hall of Fame in 2004.
Colonel Freckles bloodlines in a horse breeding program establish genetic value–the kind of value that is there years later when fads and promotions have faded away and only the record remains of champion horses that are able to produce champion horses.
Champion of the1976 National Cutting Horse Futurity, Colonel Freckles has made a prodigious impact on the American Quarter Horse Association, the National Cutting Horse Association, the National Reining Horse Association, and the National Reined Cow Horse Association. Equistat records through 2002 show that in the disciplines of cutting, reining, and reined cow horse, 325 sons and daughters of Colonel Freckles have earned a total of $4,671,860–an average of $14,375 per offspring. As a Paternal and Maternal Grandsire in the same disciplines, 1,833 performers have won $14,010,314.
Colonel Freckles himself was the 1976 NCHA Futurity Open Champion. This 1976 Futurity was considered to be one of the toughest futurities in the history of the event, as the finalists included such exceptional cutting horses as Freckles Playboy, Doc's Oak, Doc's Remedy, Doc Athena, Montana Doc, and Tip It Sam.
In a stunning display of his prepotency, Colonel Freckles' first foal crop dominated the 1981 NCHA Futurity, with 36 entered, 7 qualifying for the Semi-Finals, and 4 making the Finals, including the 1981 NCHA Futurity Champion, Colonel Lil. This same first foal crop of 64 also produced four NCHA Super Stakes Finalists, including the Reserve Champion Colonel Leo Bar, and a NCHA Open Championship Top Ten winner and Co-Champion of the 1983 NCHA World Championship Finals, Freckles Fantasy.
The NRCHA has been influenced greatly by champion progeny of Colonel Freckles. Nu Cash, a son of Colonel Freckles, was NRCHA Snaffle Bit Futurity World Champion and sired the '95,'96, and '97 NRCHA Snaffle Bit World Champions. Nu Cash earned in excess of $100,000 in the NRCHA and NRHA and has been listed consistently as a leading sire of Working Cow Horses since 1995. One of his sons, The Nu Colonel, was 1995 NRCHA Snaffle Bit Futurity World Champion. A son of Colonel Freckles, Charter Colonel, captured the NRCHA Open Bridle Year-End Championship for four years and also four times netted the AQHA Best of America's Horse award. Typical of Colonel Freckles' influence on the Reined Cow Horse industry were the 1996 statistics: Colonel Freckles was the Number 1 Leading Paternal Grandsire and five of his sons were among the top 25 Leading Sires, including #1 Nu Cash and # 3 Just Plain Colonel.
The NRHA has also felt the strong impact of Colonel Freckles bloodlines. Among his sons that have been reining champions, Freckles Top Brass, won 1987 NRHA Futurity Open Novice Championship, King Badger's Colonel was the 1990 Limited Open Derby Champion and the 1991 Lazy E Limited Open Champion, and Freckle Kid was the 1990 Limited Open Reserve World Champion. A grandson, Nu Chex to Cash (by Nu Cash) was 2002 NRHA Intermediate and Limited Open World Champion as well as Reserve Non-Pro World Champion and Reserve Intermediate Non-Pro Champion.
When the U.S.E.T. held its Championship reining in Gladstone, New Jersey in 2001, a grandson of Colonel Freckles, Colonels Smokingun, better known as "Gunner" scored a 233 in the semifinals–unofficially the highest score ever marked in USET reining competition. Gunner went on to score 226.5 in the finals for the 2001 USET Gold medal. All told, Gunner has earned $119,069 in NRHA winnings, including the 1996 NRHA Open Futurity Reserve Championship.
Colonel Freckles' name is still seen today in the pedigrees of champions across the equestrian board.