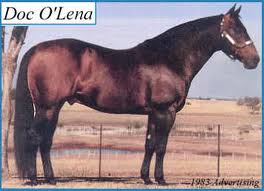 Doc O'Lena was foaled in 1967, the offspring of Doc Bar and Poco Lena.  He is one of only two horses in the American Quarter Horse Hall of Fame with both parents also inductees. He was a bay foal owned by Dr. and Mrs. Stephen F. Jensen of Paicines, California.
It is really quite a miracle that Doc O'Lena was ever born at all. The Jensen family bought his dam, the severely foundered Poco Lena, in 1963, with the intention of breeding her to their already proven halter and performance sire, Doc Bar.  In addition to an already heart wrenching story behind her laminitis, Poco Lena had suffered long-term effects from the drugs that had kept her from cycling during her cutting career.  It took three breeding seasons before she carried a foal.  That foal was Doc O'Lena, born June 21, 1967.
The Jensens hoped to sell Doc O'Lena while still a yearling to Don Dodge, who had trained the colt's dam, Poco Lena, but Dodge thought the colt was too small to train as a cutting horse. So instead, the Jensens decided to keep the colt and have Shorty Freeman of Scottsdale, Arizona, come look at him to see if Freeman wanted to train the colt. Freeman did not have an auspicious beginning, as the first time Freeman tried to ride the green broke yearling, Doc O'Lena ran away. However, Freeman decided to take Doc O'Lena on, and said of the horse, "I didn't train Doc O'Lena anyway, he trained himself. I knew about 30 days after I got him that he was an exceptional horse. I always had to ride him last in the training program, 'cause if I didn't, I'd be mad at all the other horses in the barn. He was just that good."
Freeman talked one of his clients into going into partnership with him and buying Doc O'Lena from the Jensens in April 1970 for $15,000. That December, Doc O'Lena and Freeman became the first competitors to make a clean sweep of the National Cutting Horse Association (NCHA) Futurity's preliminary go-rounds, semi-finals and finals becoming the 1970 Futurity Champion and winning $17, 357 for his new owners.  In all, Doc O'Lena earned $21,991.93 in NCHA earnings, along with an NCHA Certificate of Ability.
Doc O'Lena sired 1,310 foals. Of these, 321 accumulated 3,978.5 points; 87 earned performance Registers of Merit (also nine amateur, three youth); nine earned Superior performance awards; four were world champions; six were youth world champions; six were youth world champions; and four were reserve world champions.
Among Doc O'Lena's offspring were Tanquery Gin, Shorty Lena, CD Olena, Mr Sun O Lena, Travalena, Sarlett O'LenaDoc Athena, Sugar Olena, Lenas Peppy, Smart LittleLena, and Todaysmyluckyday.  His son Montana Doc is a member of the NCHA Hall of Fame. Doc O'Lena was the first NCHA Futurity winner to sire a Futurity winner when Lenaette won the Futurity in 1975. His son Smart Little Lena was the first winner of the NCHA triple crown. And in 1978, Doc O'Lena himself was syndicated for $2.1 million, at that time a record for the cutting horse industry.
Doc O'Lena died on February 27, 1993, at the Phillips Ranch in Frisco, Texas.  He was inducted into the American Quarter Horse Hall of Fame in 1997.