Boonsmals Kandyman
description
2000 Sorrel Stallion
AQHA #3917095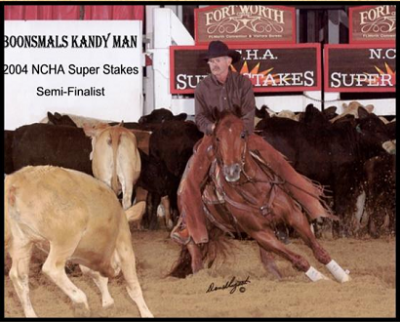 PERFORMANCE RECORD:  NCHA earner of $27,396.00.  2004 Wyoming CHA Open Derby Reserve Champion; 3rd CHA Nebraska Open Derby; semi-finalist in the NCHA Open Super Stakes; NCHA Western Nationals $10,000 Novice Non-Pro.
By PEPTOBOONSMAL (1992).  $180,487:  1995 NCHA Open Futurity Champion; 1996 Bonanza 4-Year-Old Open Derby Champion; 4th, 1996 NCHA Open Super Stakes; 1996 Gold Coast Open Derby Champion; finalist in the 1996 NCHA Open Derby and Augusta 4-Year-Old Open Futurity. The 2009 Equi-Stat #3 Leading Cutting Sire, and an NRCHA and NRHA Leading Sire, PEPTOBOONSMAL has been a top 5 cutting sire every year since his first full crop showed in 2001. He is also the Equi-Stat #8 All-Time Leading Cutting Sire and an NRCHA Top 20 All-Time Leading Sire.
1st Dam:
HICKORYS HANDY KANDY, by Doc's Hickory. $98,311: split 5th, NCHA Super Stakes Non-Pro Classic; finalist in the NCHA Open Derby; Chisholm Trail Non-Pro Derby Champion; Southern 5/6-Year-Old Amateur Champion; Southern 4-Year-Old Open Reserve Champion; 3rd, AQHYA World Championship Cutting twice; 3rd, Southern 5/6-Year-Old Non-Pro twice; 3rd, CHA Nebraska 5/6-Year-Old Open; finalist in the Memphis Open and Non-Pro Futurities, Memphis Non-Pro Classic, Bonanza 4-Year-Old Non-Pro, Gold Coast 5/6-Year-Old Non-Pro, Augusta Open Classic; Chevy Nationals East $20,000 Non-Pro and Senior Youth finalist. Dam of 7 money earners.
2nd Dam:
HANDY GOLD ZAN, producer of 4 money earners.
3rd Dam:
HANDY HIRED GIRL, 41 AQHA points, Performance ROM; NCHA money earner and producer.