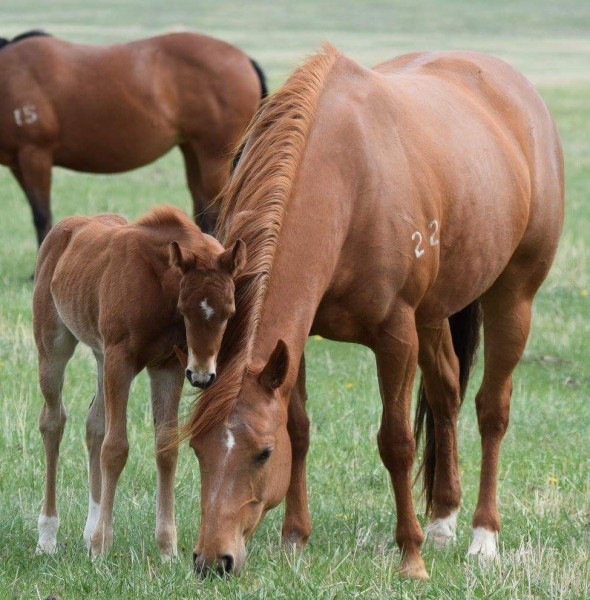 It usually starts when they're young. Little kids learn about horses on TV or in school and say, "I want a pony," to their parents. More often than not, it leads to their parents buying them a stuffed pony to keep them happy. But every now and then, parents decide to go the extra mile and actually buy their kids a horse—and it ends up being one of the best decisions they ever make.
At Open Spear Ranch, we sell AQHA horses and know first-hand just how beneficial it can be to own a horse. Horses are magical creatures that will light up your life from the second you bring them home from our ranch. No matter what kind of horse you go with, you'll find that it enhances your life in so many ways.
Reasons to Buy AQHA Horses in Montana
So, why own a horse? There are so many reasons why you should think about visiting our horse ranch in Montana and buying one. The list of benefits that comes along with owning a horse is virtually endless.
For starters, a horse will instantaneously become a part of your family just like a pet dog or cat would when you take them home. Horses and their owners share a unique bond that cannot be broken. Horses might not be able to talk, but they find ways to communicate with their owners non-verbally. You'll feel the love that you're receiving from them the moment you first look into their eyes.
Horses can also be used to teach children, teens, and even young adults about responsibility. From feeding a horse to cleaning out its stall, there is a lot of work and commitment that goes into taking good care of a horse. It won't take long at all to teach someone the importance of being responsible when it comes to caring for a horse.
And of course, one of the best reasons to buy an AQHA horse is so you can ride on a regular basis. Riding a horse isn't easy at first, as it takes time for a person to learn how to communicate with their horse and figure out how to control them. But before long, a bond will grow between rider and horse and you'll get to experience how much fun riding a horse is. It can alleviate anxiety, boost your mood, and turn into a lifelong hobby.
Oh, and did we mention how much fun you'll have when you own a horse and hang out around its stable? There are many opportunities to participate in horse events at fairs, shows, and festivals. You'll meet new people who also own horses and form friendships with both them and their horses.
Purchase a Horse From Our Horse Ranch in Montana
Adding a horse to your family can be very beneficial. But it can also present some unique obstacles and challenges. As such, you should only buy from a reputable horse ranch. Call or email us today to get started.